Exercise-13 (Preparation of statement of cash flows – Indirect method)
The income statement and comparative balance sheet of Edison Corporation is given below: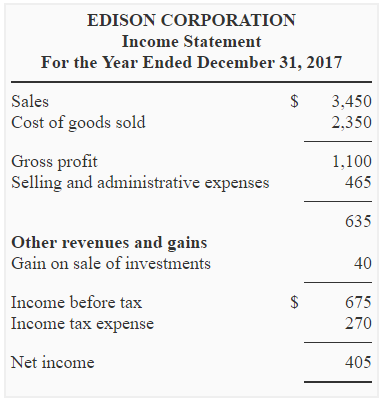 During the year 2017, a dividend of $130 was declared and paid by management of Edison Corporation. Some plant assets were purchased during 2017 and the payment was settled by issuing common stock amounting to $35.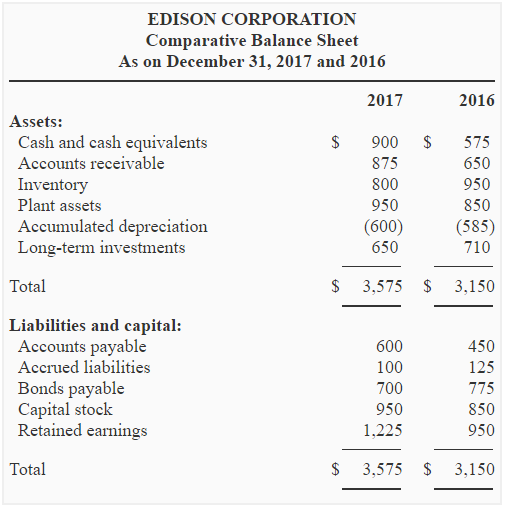 Required: Using the data given above, prepare statement of cash flows of Edison Corporation using indirect method.
Solution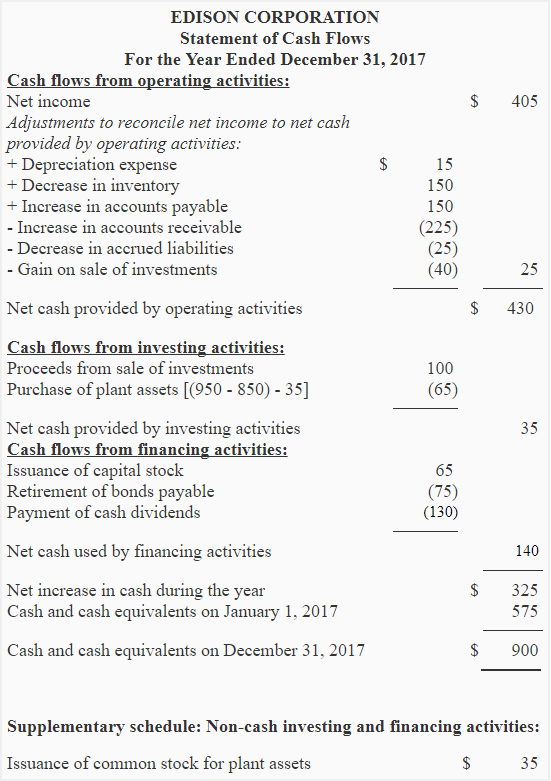 Computation of numbers used in above statement:
Depreciation expenses for the year 2017:
Accumulated depreciation on December 31, 2017 – Accumulated depreciation on December 31, 2016
= $600 – $585
= $15
Issuance of capital stock for cash:
(Capital stock on Dec. 31, 2017 – Capital stock on Dec. 31, 2016) – Capital stock issued in exchange of plant assets
= ($950 – $850) – $35
= $65
Cash received from sale of investment:
Cost of investment sold + Gain on sale of investment
= ($710 – $650) + $40
= $60 + $40
= $100
Cash paid for purchase of plant assets:
(Gross plant assets on Dec. 31, 2017 – Gross plant assets on Dec. 31, 2016) – Plant assets acquired in exchange of common stock
= ($950 – $850) – $35
= $65